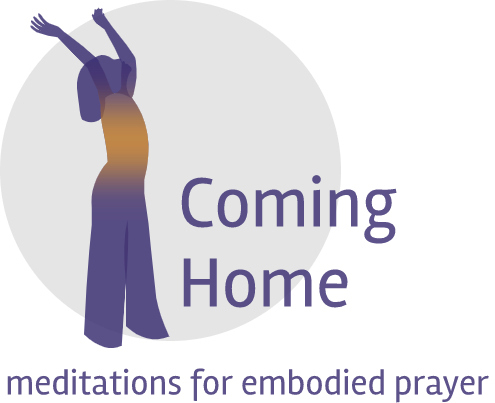 Meditations Content
You can stream these meditations here on the site or download them for access later. Also, feel free to share them with others who might benefit.
Take these meditations at your own pace – one a day, one a week, etc. You're welcome to repeat them as well.
Coming Home Meditation Series
God Hods the Pain
(Kimberly Pelletier)
God Delights In You
(Liuan Huska)
God Is At Work In Your Body
(Kimberly Pelletier)
Trouble playing on this site? Listen on SoundCloud
A Companion to Hurting Yet Whole
We all know distance and pain these days. Perhaps we feel it during Zoom meetings when we'd rather hug in person, through losing a job or a loved one, in the centuries of racism sitting heavy on our chests, or because of personal, ongoing health struggles.
In these times, our bodies can feel alien, perhaps even the source of our problems – the enemy itself. Yet our bodies are where God meets us – in the physical, tangible here and now. Pain can make us flee from our bodies, doubting their goodness, but coming home to our bodies and being present to all that we hold within is how we heal.
This series of audio meditations by author Liuan Huska and spiritual director Kimberly Pelletier leads you through four 10-minute sessions where you learn to re-inhabit the holy, physical space of your body. Meditation is simply the art of focusing on something – be it breath or scripture or art or nature. These meditations create a space for you to tune in to the presence of God in whatever your body is feeling at the moment and cultivate a gentler, more loving relationship with your body as an integral part of your spiritual life. 
For more teaching on meditation, check out Kimberly's course, Meditating with Christ.