Book – Hurting Yet Whole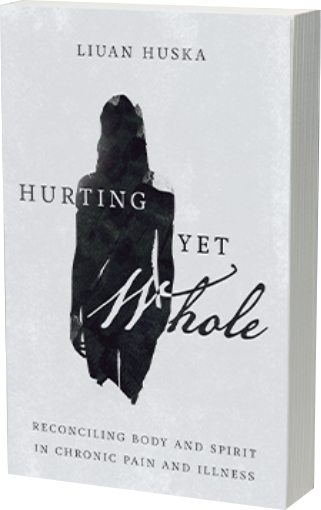 What if the things we most fear about our bodies – our vulnerability to illness and pain – are exactly the places where God meets us most fully?
As Liuan Huska went through years of chronic pain, she wondered why God seemed absent and questioned some of the common assumptions about healing.
Too often, Christians neglect the role our bodies play in the life of our souls on earth and in eternity. I'm so thankful for the way Liuan Huska tenderly and humanely stitches these two parts of our humanity back together in this wise, lovely book.

Karen Swallow Prior, author of On Reading Well
---
In the vein of Malcom Gladwell or Andy Crouch, Liuan Huska has made accessible sophisticated research from areas such as anthropology, biology, psychology, and theology, together with narratives of her own and others, to offer this gift of a book. If you have a body or know someone who does, this book is for you.

Brian M. Howell, professor of anthropology at Wheaton College
This book is powerful because it is a lived theology, a practical theology of the body in narrative form, not detached speculation. Incarnational. May we sit at her feet and learn.

Marlena Graves, author of The Way Up is Down
---
A deeply helpful resource for people just beginning to grapple with the reality of chronic illness in their own lives.

Bethany McKinney Fox, author of Disability and the Way of Jesus
---
There's a lot of bad theology on suffering to suffer through. Liuan Huska's Hurting Yet Whole does the hard work of sifting through the mire and offering us a finer answer to the eternal question, How do I live in my body now?

Erin S. Lane, author of Lessons in Belonging from a Church-Going Commitment Phobe
What do we do when our bodies don't work the way they should?
What is healing, when one has a chronic illness? Can we still be whole when our bodies suffer?
The Christian story speaks to our experiences of pain and illness. In the embodiment of Jesus' life, we see an embrace of the body and all of the discomfort and sufferings of being human. Countering a Gnosticism that pits body against spirit, Huska takes us on a journey of exploring how healing is not an escape from the limits of the body, but becoming whole as souls in bodies and bodies with souls. As chronic pain forces us to pay attention to our bodies' vulnerability, we come to embrace the fullness of our broken yet beautiful bodies. She helps us redefine what it means to find healing and wholeness even in the midst of ongoing pain.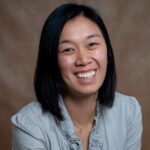 Liuan Huska is a freelance journalist and writer at the intersection of ecology, embodiment, and faith. She has written reported and opinion pieces for Christianity Today, Spirituality and Health, The Christian Century, BioLogos, and other publications. She is a regular columnist for Sojourners magazine and a fellow with the Religion and Environment Story Project.