Practices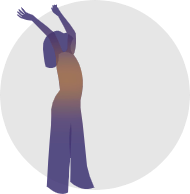 Coming Home: Meditations for Embodied Prayer – by Liuan Huska and spiritual director Kimberly Pelletier. This series of four 10-minute sessions guides you into re-inhabiting the holy, physical space of your body, in pain, pleasure, and everything in between.
An Examen for Times of Illness – by Vinita Hampton Wright
Prayer and Our Bodies – by Flora Slosson Wuellner – this lovely book includes exercises at the end of each chapter to connect you to God and your body.
For Further Reading
Stephanie Paulsell / Honoring the Body: Meditations on a Christian Practice (2002, Jossey-Bass)
Christine D. Pohl / Making Room: Recovering Hospitality as a Christian Tradition (1999, W.B. Eerdmans)
Barbara Brown Taylor / An Altar in the World: A Geography of Faith / (2009, HarperOne)
Parker Palmer / A Hidden Wholeness: The Journey Toward an Undivided Life (2004, Jossey-Bass)
Elizabeth Lewis Hall / "What are Bodies for? An Integrative Examination of Embodiment" (2010, Christian Scholars Review, 39, no. 2)